Whitlock Opticians & Daughters is a family owned and operated business.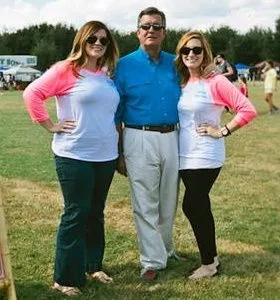 Mac Whitlock
Mac Whitlock was born and raised in Charleston.
In 1976 He started in a wholesale optical lab grinding and manufacturing lenses.
In 1979 after Apprenticing under J. Hugh Jackson for three years, he became a licensed optician.
In 1981, he received his contact lens license.
In 1986, Mac opened Whitlock Opticians & Daughters on Houston Northcutt.
In 1997, after staying at that location for 12 years, Mac built their new location at 863 Coleman Blvd.
From 1996-1999, Mac was elected and served as president of the South Carolina Association of Opticians.
In 2001, he was recognized as Optician of the year.
Mac served on the SCOA Board of examiners from 2004 to 2012. He enlisted in the US Marine Corps from 1969 to 1972 and was honorably discharged. While in the Marines Mac served in Vietnam in a rifle company.
His hobbies are fishing, golf, riding his Harley Davidson motorcycle and restoring motorcycles and scooters.
Mac married his wife Donna in 1975 and they have two daughters who have joined the family business and are eager to follow in their father's footsteps.
---
Becca Whitlock
Becca was born and raised in Mt. Pleasant and graduated from Wando High School in 2006. She is a licensed optician. During her college years she worked every summer at Whitlock Opticians & Daughters. She started working full time in 2009 and began her apprenticeship. In May of 2013 she became an American Board of Opticianry) certified optician. When you see Becca you will more than likely see her furry sidekick Lucy, Whitlock Optician's very own mascot.
---
Gara Whitlock Hollister
Gara was also born and raised in Mt. Pleasant. She graduated from Wando High School in 2000 and went on to USC. From there she decided to try her hand at cosmetology school and became a licensed esthetician in 2003. She worked for a major cosmetics company for 6 years. In July of 2010 Gara and her husband Leo welcomed their first daughter into the world. Gara decided to make a huge career change in order to be more available for her new family and began working with her father and sister in 2011. During her apprenticeship she discovered her passion for helping children with their eye care needs. This became even more so when her own daughter was one of those children who needed corrective lenses. In May of 2013, Gara became an ABO certified optician. Gara also has added to the mascot collection with the addition of her furry children, Hazel and Honcho who like to join her during her workday.